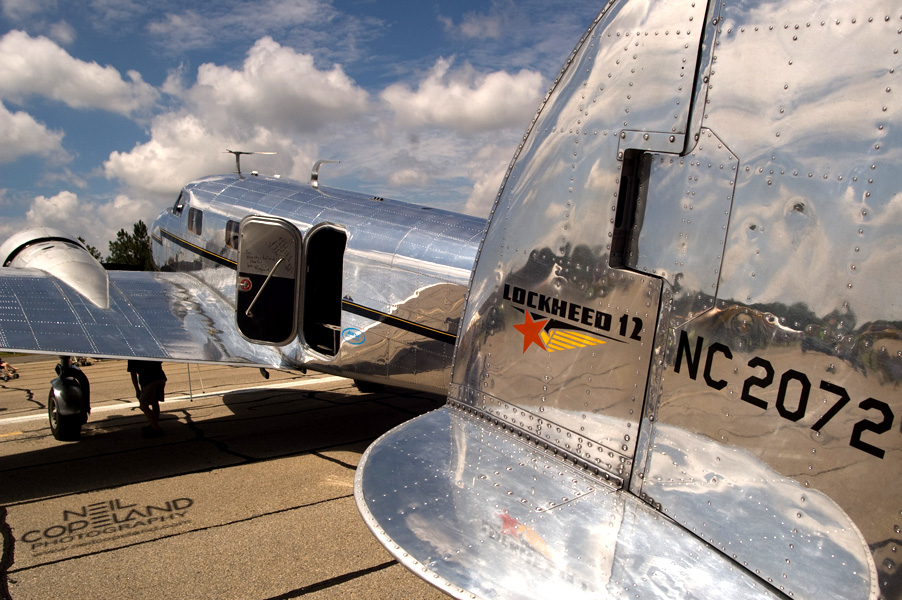 July was a beautiful Saturday that started out a bit overcast and just got more beautiful as the day went on. It was a great day to hold the 42nd annual Cracker Fly-in at Lee Gilmer airport in Gainesville, GA. I was a little lazy that morning, so I didn't get up and out as early as I had planned. Bad move… when I got to the airport (after I went to the wrong entrance), I followed the signs to the parking area…. WOW! Was it ever full. Friendly attendants (Civil Air Patrol cadets) pointed the way up and down rows and rows of cars and I finally found one. I grabbed my gear and headed out for the entrance, several hundred yards away. It only cost a dollar to enter, and, boy, did I get my money's worth! You can look at the slideshow to see a few of the planes I looked at and photographed.
People were all over the place, but the organizers did a great job of setting this one up (across the field from the last one I attended a few years back). There were all sorts of booths for eating and buying teeshirts and raffle tickets. There was a Blackhawk helicopter in the middle of the taxiway with tons of folks looking it over. On one end of the field, a crew was selling rides on a couple of Huey helicopters and there was a long line for that. There was everything from homebuilt ultralights to experimental aircraft of all kinds, and even one like Amelia Earhardt was flying when she disappeared. Planes were coming and going all morning and it was all a lot of fun to watch and talk with some of the pilots. Oh, and it was fun taking pictures, too!
I've got to give extra credit to the staff of organizers there. They did a great job! Besides just doing a spectacular job on setting up the event, they were great people willing to help out a poor photographer like me. I had lost my monopod somewhere along the field and never could find it, so I gave out my card to a few staffers in the hopes someone would turn it in. I really didn't expect to ever see it again, but, lo and behold… I got a call from the event staff that some honest person turned it in about an hour after I had left, so I drove back and picked it up before they left for the day. To whomever found it and turned it in, a big THANK YOU!
I hope you enjoy the slideshow I've put together to show some of what I saw that day!