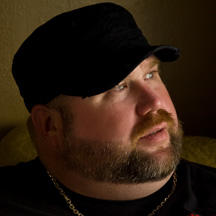 Brett Copeland, son of Neil and Jane Copeland, has had a role in the business all his life. As a child, he was Neil's favorite subject and was his inspiration to get involved in Youth Sports photography early in his career.
Over the years, Brett has been involved in various aspects of the business, from being an assistant gopher as a teenager, to becoming business operations manager as a young adult, to his current part time status as a photographer and special events computer operator and printer. Brett was instrumental in reorganizing the business in the early 1990's, guiding it through incorporation and managing the business in its move from DeKalb County to the Gainesville area in 1994.
From 1996 to 2000, he worked as Special Event Operations Manager for Central Parking Systems in Atlanta, where he ran those operations for Turner Field, CNN Center and Philips Arena, supervising a staff of over 200 employees. Prior to that, Brett had been a branch manager for Enterprise Rent-A-Car at three different branches in the metro Atlanta area.
Brett earned his Bachelor of Science Business Administration degree from The Citadel (Military College of South Carolina) in 1993 where he attended on a full Athletic Grant in Aid in Football. While there, he was an All Southern Conference Center for football. The Bulldogs were tied for first place in the 1992 NCAA I-AA Poll, when they won the 1992 Southern Conference Championship. During Brett's time with the Citadel Bulldogs, they upset several I-A teams like the South Carolina Gamecocks in 1990 (at SC), Arkansas Razorbacks in 1992, and Army twice, in 1991 and 1992.
Brett worked another stint as Business Operations Manager with Neil Copeland Photography, Inc. from 2000-2004, overseeing the changeover from film to digital technology and helping set up and operate Lightbender Digital Lab at the Lula office, a hugely innovative step at a time when professional digital photography was in its infancy. Brett left in 2004 to become Branch Manager for Blossman Propane Gas & Appliances in the Anderson and later the Greenville, South Carolina branches. He returned to the Gainesville, GA area in 2008 and has assisted on a part time basis as needed in different facets of the business, from helping with the startup of Lightbender Studio in Gainesville to his present role as part time photographer.  After the closing of Lighbender Studio in 2011, Brett worked as Social Media Manager for USA Slides in Gainesville until the closing of that business due to owner illness.  In October 2012, Brett married Jeannie McElroy at a beautiful ceremony in the mountains of Northeast Georgia.   At that time, Brett worked with Syfan Logistics in Gainesville, GA. While still working at Syfan, he and Jeannie had an opportunity to pursue a dream he had of opening a restaurant, so they followed that dream and opened the Natural Juice Cafe in Gainesville in May, 2013. A specialty eatery, specializing in healthy salads, soups, artisan sandwiches alongside fruit and vegetable juice drinks and smoothies. That business grew rapidly and in 2016 he and Jeannie opened the Ahh Spa across the hall in the same building as the Natural Juice Cafe. This business followed Jeannie's dream (she had been a massage therapist at another clinic prior to marrying Brett) and she was able to put her Marketing degree to work alongside Brett.  They had a son, Evan, in 2015 and he has been the apple of everyone's eye, especially for me. I finally got to be a PopPop!
It doesn't really matter whether he works full time or part time with Neil Copeland Photography, Brett and Jeannie and Evan will always be a major part of this business and our lives.